Street Bike / Motorcycle Customizing Services
Cycle Pros has built its reputation on selling top quality, affordable, customized used street bikes in MA & RI. We are also known for our full range of street bike customizing services, all undertaken by our team of highly qualified, experienced motorcycle mechanics and technicians.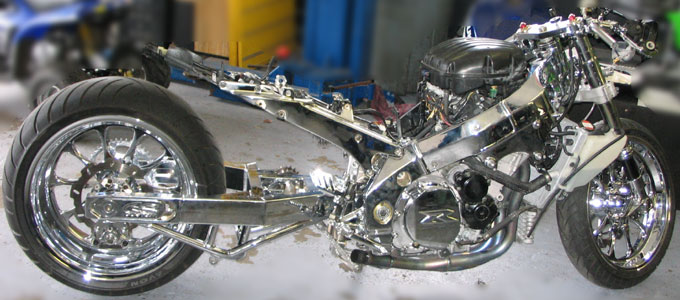 Street bike customizing services include:
Rebuilt street bike motors
Street bike tune-ups
Chrome plating & chrome exchange
FAT Tire Kits
Single-sided 300 - 330 - 360 kits
Billets
Exhaust systems
Cycle Pros will customize any used Honda, Kawasaki, Suzuki, and Yamaha street bike at our Bridgewater, MA location. Our street bike customization services are extremely affordable and financing is available to all of our qualified customers for street bike purchases and customization work (if needed). At Cycle Pros, we back up our street bikes with great service from an experienced staff of motorcycle technicians - all street bikers themselves!